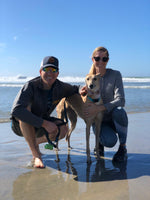 About us
Dedicated to all coffee and dog lovers, Greyt Coffee aims to provide the best coffee beans for every cup. We are sourcing our coffee from various locations and offer green beans, roasted beans, coffee ground either as subscription or single purchase.
​
Wondering about the name "Greyt Coffee"? We are dog lovers and rescued our first greyhound in 2015. It didn't take long for us to love her more than anything and as a little Thank You, we included her in our business logo and name.
So who wants some Greyt Coffee now?
OUR MISSION
At Greyt Coffee we're dedicated to doing great things. That's why we use a portion of profits to support rescue organizations and initiatives that provide help for rescued greyhounds. We're committed to our mission and we can make a difference, one Greyt cup at a time.